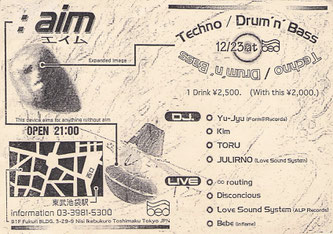 A Techno and Drum'n'Bass event called Aim (: aim) held in 1997 in Ikebukuro, Tokyo. DJ set and live.
Yu-Jyu, who participated with FORM @ RECORDS on his back, is also the organizer of this event and also provides music as MAG-NET-WALKER.
By the way, the Love Sound System credited to LIVE is a unit of Ayako Tsunura and Juliano Fujiwara. Juliano is also credited to DJs. I think I released a CD at that time.
Eisei Yorimitsu (FORM@ RECORDS)
(In Japanese)
1997年に東京池袋で開催されたエイム(:aim)というTechnoとDrum'n'Bassのイベント。DJセットとライヴ。
FORM@ RECORDSを背負って参加してもらったYu-Jyuさんは本イベントのオーガナイザーでもあり、MAG-NET-WALKERとして楽曲提供もしてくれています。
ちなみに、LIVEにクレジットされているLove Sound SystemはAyako TsunuraとJuliano Fujiwaraのユニット。JulianoはDJでもクレジットされてますね。当時CDとかもリリースしてたと思います。
依光英世(FORM@ RECORDS)